Since the beginning of humanity, construction has been part of us and has played an important role to bring us where we are now. Building blocks are the most essential component of any construction. At present, we have two major types of building blocks available for us: Bricks and Concrete Blocks. To produce them, we also have Concrete Block Making Machine and Brick Making Machine. These machines make the production fast and efficient. While both serve their purpose well, Concrete Block Making Machine and Concrete Blocks prove to be better than their adversaries. Let's see how concrete blocks are better than bricks.
Concrete Blocks are larger and have a fewer joint. This helps maintain uniformity, accuracy and strength of the building.
Concrete Blocks provides better thermal insulation and more strength to the building.
Concrete Blocks are known to speed the construction process and reduce the overall cost.
Better water protection and acoustic insulation are additional benefits of block making machines.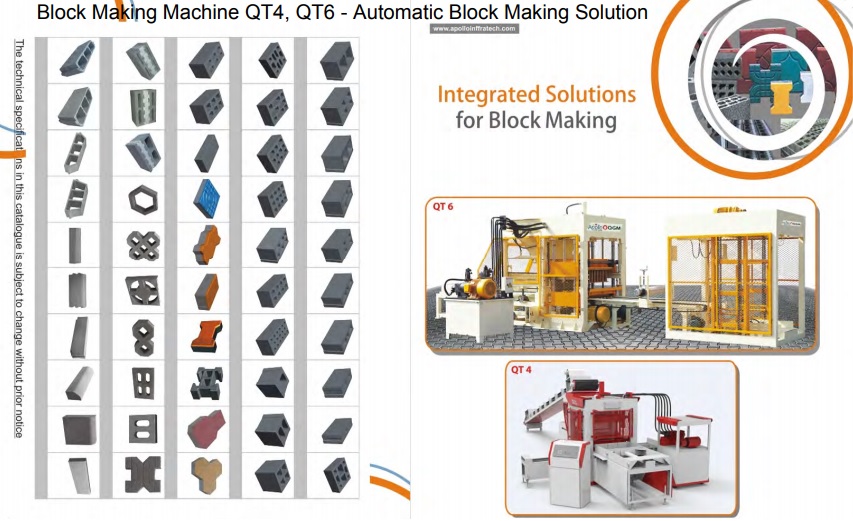 While these features are triggering the increase in demand for concrete blocks, there needs to be a good option to produce them fast and with efficiency. This is where the concrete block machine comes in. Apart from concrete blocks being better than bricks, concrete block making machines have their own advantage over brick making machines. The latest automatic block making machines, like QT4 and QT6, comes with versatile design and integrated solutions for block making. Concrete block making machines have major advantages as follows:
High Strength of Blocks: The effective hydraulic pressure systems and complex feeding systems produce each unit with high precision and accuracy. They also provide close-grain structure to the block which makes the block highly rigid, vibration resistance and high strength.
Customizable: The requirement of the design of block differs highly depending on the construction needs. Modern automatic block making machines are integrated with advanced control systems which let you change the moulding design as per the needs. Switching the machine between fully automatic and semi-automatic is also a possibility in these machines
Quick and Accurate: Hydraulic pressure systems and quick feeding system highly reduce the overall production time. The quick moulding cycles and high production efficiency makes these machines highly preferred.
Environment-friendly: Concrete blocks can be made from fly ash, slag, gauge and similar industrial waste. This, in one way, serves as recycling of industrial waste which ultimately serves for the betterment environment.
Low cost: The modern machines are innovated so that they can reduce up to 40% of energy usage. This helps reduce the cost and overall profit. The efficient and fast production line of these machines adds to reducing per unit cost of the blocks.
Why choose us?
Apollo Inffratech Private Limited is a leading manufacturer of Concrete Construction Equipment in India. We value innovation, reliability and productivity and provide high-quality construction equipment in India and across India. To fulfil the increasing demand for concrete solutions we are equipped with most modern and sophisticated factory setup.