With the advent of the next generation of construction equipment, incremental improvement is taking place in their design, mobilization, and use. These componental changes add up to more efficient machinery as well is its productive use. The deployment of such autonomously operated equipment also enhances the safety and operation of such heavy machinery. The latest equipment possesses a lot of improvement in engines, GPS Control, fuel-saving, IP (Internet Protocol) systems, robotics, and fleet management techniques. A few types are-
AAC Block Machine– AAC (Autoclaved Aerated Concrete) Machinery is a lightweight pre-cast foam concrete building material used for the production of concrete masonry units like blocks. The AAC block machine is known for its quality and exceptional finish. A few advantages of AAC block machine are-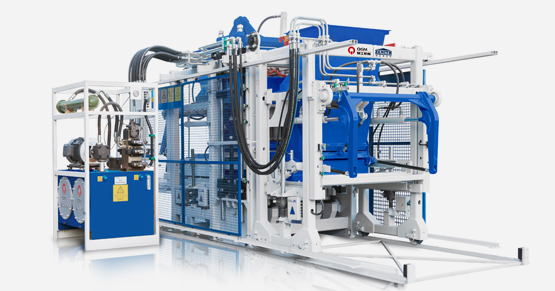 It helps in the engineering of the complete AAC portfolio. It allows the designing of complex and thin shapes and structures. Panels of a large variety can be produced with the help of an AAC block machine.
Production of reinforced panels (100% blocks) is possible and in large volumes
It has a double-wired cutting technology with the least cake handling and high accuracy. Less than 1mm tolerance with a super finish can be achieved.
It is simpler than the conventional tilt cake process which results in much less breakage.
Dry Mix Mortar Plant-This is a highly controlled process plant with dedicated facilities for batching and blending all necessary ingredients. It is useful to lay bricks and masonry blocks, rendering coat buildings, and fixing tiles. The dry mortar products to be blended could be External plaster, sand-based plaster, wall putty, gypsum plaster, tile adhesives, and waterproofing mortar. Its advantage include-
It aids in better cement hydration and eliminates shrinkage cracks
It provides a very good bond strength ruling out any pop out on a smooth surface.
It has a good water resistance property giving it good workability and flexibility and tensile strength.
There is a nil wastage of material at the site and helps in inventory cost saving.
Wet Mix Macadam Plant
 This machinery is designed and used for achieving a uniform mix of materials to prepare bases, especially in road projects. These are also known as stabilization plants that are used to produce materials that help stabilize soil before the laying of hot mix asphalt. This plant is available in fixed and variable speed drives and adjustable gates at its bins. Its inbuilt twin shaft pug mill helps in continuous, homogenous mixing. The advantages of Wet Mix Plants include-
It helps in the achievement of a high production rate and an easy operate the machine.
It has a highly accurate aggregate and additives feeder.
It has the facility of embedding the latest procedures into its hardware parts.
It features an inbuilt accessory gear for correct metering of substances like cement and lime.
Curb Paver
The Curb Paver is a compact extrusion type of equipment used for curbing and paving applications. It includes a fully hydrostatic drive with vibrator controls. These machines involve a rotor blade which could be used to cut and pulverize damaged or old pavement and also to mix lime, fly ash, and cement to stabilize poor soils. The benefits include-
The Paver finisher adds thickness to edges of concrete pavements to increase stiffness and strength and providing a lost-lasting pavement.
The quick-connect mould and offsets and mould locks can help save considerable production time and resources.
They help in adding the aesthetic appeal of any area. They also help in demark the pavement and roads along.
Drum Mix Plant
The Drum Mix Plant is an intelligent assembly of mechanical and electronic equipment combination where all the aggregates and minerals are blended, dried, and heated with asphalt and result in the production of hot mix asphalt. This unique flight design ensures a total heat transfer, a complete mix, and coat, lower emission, and prevention of bitumen oxidation. Its advantage is-
It gives a Proper Asphalt Coating and leading to saving of costs.
It has a design convenient for containerized transport which gives it the ease of dismantling and demobilization.
It offers a high production rate with cutting-edge drum mix technology.
Mechanical Paver
A Mechanical Paver is used to lay asphalt on roads, bridges, and other places. The mainline machines usually first place the liquid concrete in front of the machines. The machine as it moves, uses augur to spread the concrete uniformly across the surface to be paved. Aiming to better paving, this model is made having high torque and low speed.
This Paver finisher helps in seeking ease of operation and maximum uptime.
It produces an impressive end product and eliminates the natural variation in productivity by offering consistent installation speed.
This high-Quality machinery can execute the mechanical installation of impeccable quality removing the need for fix up and repairs. This cost-effective way also provides improved reliability during bad weather.
Next-generation construction equipment manufacturers are technology partners, not just machine suppliers, resulting in a far higher value service for all customers. These companies constantly invest in innovation and process technology to optimize the process of production and enhances product quality.