The concrete blocks are manufactured either through manual method or with the use of block making machine. Manual manufacturing method involves concrete moulds kept in a row and concrete is poured and compacted in the mould with a vibrator. Over time this method has been seen to be slow for mass production of blocks and this led to the development of the block making machines. This machine has a replaceable gang mould system that can produce many blocks at the same time. The quality of the blocks shows that they are superior in strength and have a better finish due to better control of equipment during the compaction phase of the process.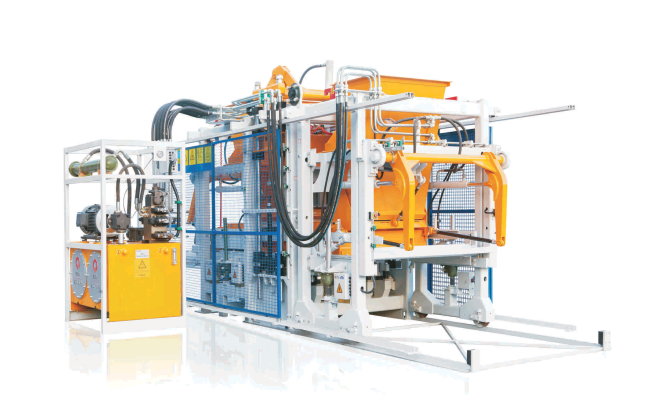 Critical Design Parameters for the Block Making Machines Achieving the right compaction of a concrete block is an important criteria affecting the block quality and resulting strength. The compaction of a mould depends on the frequency, amplitude and duration of vibration.  In essence, ready mix concrete with coarse aggregate requires a lower frequency of vibration and higher amplitude while that of finer fractions will require higher frequency and lower amplitude.
Design Features
The equipment may be equipped trolley wheels, with the front pairs connected to a steering system for easier movement from one point to another.
Incorporation of a horizontal power shaft connected to an electric motor through a v-belt system and pulleys for off loading the completed blocks.
Moulding section is equipped with several slots/ cavities to enables machine deliver more than one block per cycle.
Fitting pads have been equipped with built in with vibration isolating devices that help confine the vibrations to the mould block.
With these salient features, an output of more than 150 blocks per hour can be achieved with better compaction and strength.
Pipe Making Machines Design Features The concrete pipe making machine is another important product from the Apollo Infratech company. The development of the vertical cast process for manufacturing of concrete pipes has proved very efficient and cost effective. It has also proven to be the best automation technique requiring lesser labor force while achieving faster production, consistency and higher quality of product.
Some of the important innovations that will enhance the efficiency of the machine and improve production include;
Automated swivel arm operation and the concrete feeder
Hydraulic press / rocking functionality
Stationary control panel
Pneumatic system for casting of lined pipes
Elevation and cooling system for the vibrator
Double and triple casting stations for greater output per cycle
Hydraulic vibrator, with a modern frequency control system.
The incorporation of these innovative features in the pipe making machine makes the equipment extremely versatile and efficient, able to manufacture long lasting concrete pipes, culverts, manhole systems, reinforced and non-reinforced concrete pipes, non-circular pipes, manhole risers and many other related products. These machines are able effectively utilize the ready mix concrete with reduced wastage, leading to profitable operations.