A proper drainage system is crucial, when it comes to infrastructural development. It provides protection to health and hygiene for the people. It even keeps the surrounding clean. The drainage system is found everywhere be it any office building, residential area, factories and industries. Thus, it is a basic requirement, which is needed to be satisfied with good quality instruments, to make it as 'One Time Investment'. A proper quality of Cage Welding Machine is required for production of cylindrical cages used extensively in drainage system and other applications.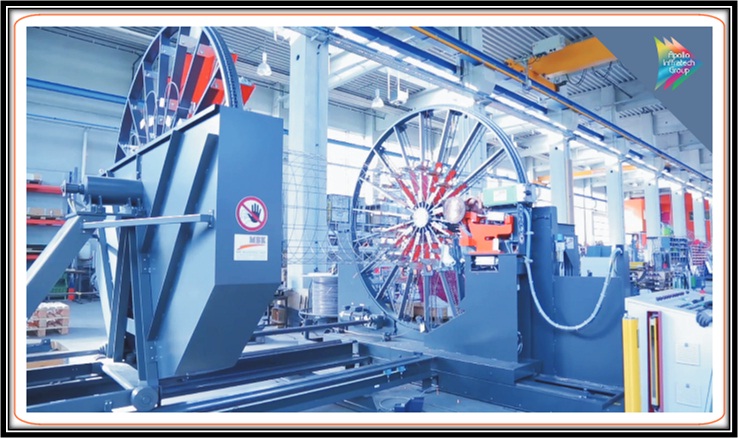 Features of Cage Welding Machine
Quick Production: The cage welding machine promotes speedy production of cage used for its versatile purposes.
Accurate: Since, it is well-designed for the production for cages, it produces accurate cages which can suits its specific requirement.
Safe to Operate: It demands very less human intervention, and it is safe to operate.
Consumes Less Energy: It provides high productivity consuming less power.
Cost Effective: It is quite cost effective machine which produces cages.
Cage Welding Machine: For Concrete Pipe Industry
The cage welding machine is designed to produce cylindrical cages which are used to make Concrete Pipes. These cages are used by major concrete pipe manufacturers across the globe. The concrete is considered as one of the strongest and most durable building materials. And, due to that reason it is used in diverse building applications including concrete pipes. Some other reasons to use concrete pipes are; they are economical and long lasting components of modern infrastructure. The concrete pipes are used for varied application such as:
Drainage System
The drainage system requires concrete pipes as it can withstand any environmental factors. It does not rust, bend, or burn.
They are highly resistant to corrosion and capable to resist heavy flow of water.
But, to build a good quality sewer requires a high quality and accurate of cage made from cage welding machine.
Dams
The dams are constructed to store water in reservoir. The water of dam is used to conduct varied activities such as irrigation and municipal supplies for domestic as well as industrial usage.
The construction of dam must be sturdy and durable. Hence, it becomes essential to use high quality raw materials.
The concrete pipe built from cage of high quality of metal can withstand the continuous and heavy loads of water.
Culverts
Culverts are placed in areas where water needs to flow under man-made structures, such as underneath roads.
They can bear heavy loads and a high amount of water flow easily but for that it's important to note that they are constructed of adequate size.
Concrete pipes made of quality cages have the characteristics that make them excellent culverts and are often employed for this purpose.
Conclusion The cage welding machine is demanded from many infrastructural and development projects and major concrete pipe producers as it is a cost-effective machine that meets the requirement of cylindrical cages throughout the world. If you are concrete pipe producer who need a supreme grade cage welding machine, you can turn to the experts at Apollo Inffratech.
Who are we?
Apollo Inffratech Private Limited is leading manufacturer and supplier of Cage Welding Machine in India.  The company also offers Concrete Batching Plant, Dry Batching Plant, Fixed Form Concrete Paver, Transit Mixers, Slip Form Paver, Block Making Machine, Pipe Making Machine, Self Loading Mixers and other concrete construction equipment. Apollo Inffratech is equipped with most modern and sophisticated factory setup, efficient R&D department and proficient engineers to provide high quality concrete construction equipment and unmatched customer services to our valuable clients worldwide.