The production of pipes as well as underground channels goes centuries back and is essentially the basis for civil engineering. The Romans created concrete and cement, like the ones being used nowadays. They combined calcium hydroxide and pozzolanic volcanic ash to generate portland cement, solidifying underwater and didn't weaken when exposed to water. Some of these pipelines and conduits built with this concrete are still being utilized. The earliest record of modernized concrete pipe fitting is the sanitary sewer made in Mohawk, New York State, USA, in 1842. It stayed operational for more than 100 years. In 1896, the French first integrated steel fortification in a solid pipe (otherwise called the Monier patent). In 1905, the idea was introduced to America and Australia in 1910. From that point, more than 300,000km of reinforced concrete pipe has been used in Australia and New Zealand in the areas of drainage, road channel, and sewage system. A lot of these pipes are still operational and testify to the durability of the Hume concrete pipe.
Worldwide Demand for Concrete Pipe Production Machine
The current technological advancement in the concrete machinery industry is part of the basis for the construction industry development, which is one of the prominent sectors in the international market. The industries that require concrete pipes and contribute to increasing the demand for these pipes are mostly infrastructure projects. Despite the reduction in construction from 2009 to 2014, there is again an upward trend in concrete pipes demand, thereby increasing the need for
concrete pipe making machines
.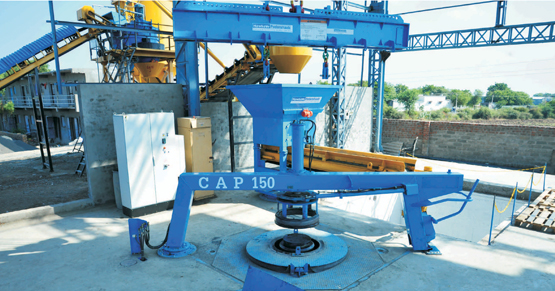 Rising Demand of Pipe Making Machine Globally
There are many construction works going on every day, and contracts for additional construction are closed almost daily. The construction of a new building encompasses forethought, design, financing, and lastly, implementation. Given that concrete is the most popularly used construction material globally, which makes it no surprise that it can be seen at a site. Concrete pipe machinery helps to meet construction companies' piping requirements. On almost all building sites, many pipes are needed for sewage purposes. Solid pipes have been in existence for quite a while, which makes it beneficial to use. Apart from that, it's long-lasting and usable. Most modern sewerage systems also use concrete pipes.
Which are The Toughest Concrete Pipes?
Concrete pipes are among the most substantial lines on the market because they are explicitly designed for heavy loads. These solid piping can be fortified by bolstering them using wires. Likewise, there is another kind of concrete pipe called the RCC Hume pipe. These pipes are sturdy, centrifugally cast pipes, and mostly utilized in the drainage system. The manufacturing procedures of these pipes area bit diverse from others.
Applications of Concrete Pipe
There are several ways to use concrete pipes, including rainwater drainage, sewages, and conduits. Rainwater drainage is vital to drain excessive rainwater, and it must be reliable and robust. It is equally important that a sewer system is free of rust, doesn't harm the environment, and always upholds structural integrity. Culverts are usually placed under an artificial structure so that water can run beneath. It should be able to withstand the heavy load and be of a suitable size. Concrete pipe making machine aids in designing solid pipes that are long-lasting, resilient, and economical, making them the perfect for such usages.