Concrete Mixture Plant
The concrete mixer plant combines various ingredients to form the final concrete. The mixture components include sand, water, aggregate, cement and fly ash. A good batching plant must be able to produce high quality mixture as well as meet the production capacity requirements. Some of the main considerations in design of the concrete plant include;
Ability to fit in with the existing infrastructure
Considerations for future expansion and increased capacity
Stability and durability of the plant
Aesthetic design and workmanship
Ability to achieve homogeneous mixture at a shorter time period
Ability to have an efficient loading and unloading process
Control of dust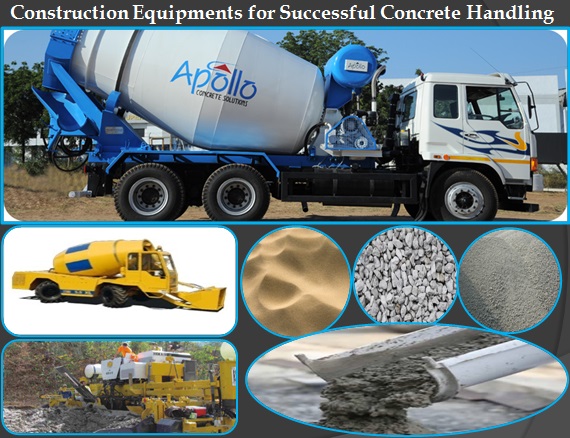 The mixing plant is central to concrete production. There are the wet mixing plants and the dry batching plant. The wet batching plant has greater advantages than the dry batching plant such as:
Ability to deliver consistent quality
They have higher production capacity
Faster loading and unloading
Greater durability and lower maintenance costs
Cleaner trucks and environment
Concrete Transit Mixer
The concrete transit mixer is designed in such a way that the mixing operation continues while the concrete is in transit. This allows greater timesavings from mixing to usage. Some important features of design include;
The driving system is highly durable, and is able to withstand long running hours during transit.
User friendliness, easier to operate and maximum discharge of cement is required to avoid wastage of material.
Smooth rotation is critical to operation. All the rotating parts of the machine are well lubricated for efficiency of mixing.
Micro filtration systems are also included for protection of the motor and the hydraulic system to ensure these are adequately protected.
Self-Loading Mixer
The self loading mixer is designed with a special mechanism to load the concrete mix components to the main mixer for batching to occur. The salient features include;
it Self loads the required aggregate and sand into the drum
Weighs the materials as per the required quantities
Continues mixing while proceeding to the site
Will easily discharge the mix to the site
Other innovative features include
Tight turning circle: This feature enables equipment make small turning radius and can operate in confined places easily.
Swivelable operator position; this feature enables the operator have good visibility during driving, turning and pouring.
High Gradeability; Enhances the machines ability to work and move in very rough and tough site conditions
Hydraulic steering system which allows for easy maneuvering in narrow and constricted places.
Slip Form Paver
Slip Form Paver is a highly innovative equipment used in paving, to consolidate, shape and finish a mass of concrete. The main features of this equipment include high production ability, versatile, quality material of construction and it has been proven to have high efficiency. The machine has also been developed in consideration of all the important safety features.
Conclusion
Successful construction is dependent on the quality of equipments applied. Technological advancements in the concrete making and construction sector have been the main contributor to efficiency in construction.