In the last few years there have been witnessed an increase in the demand for the concrete paving equipments all over the world including the developing countries. Most of the newly elected governments go into office having committed themselves to rapidly develop infrastructure which mainly include roads and bridges, affordable housing for marginalized people and expansion of existing facilities.
The demand for the slip form pavers has been steadily increasing as a result of these infrastructural activities. Highways constructions are growing steadily creating the demand pull for this new technology of the slip form pavers.
It is estimated that there is a demand for the slip form pavers ranging from between 620 to 640 machines per annum. Industry analysts are still anticipating strong sales from this healthy increase in demand in the next three to five years. It is notable that the demand has also been supported by the demand for rental equipments and also desire by users for more efficient and productive machinery.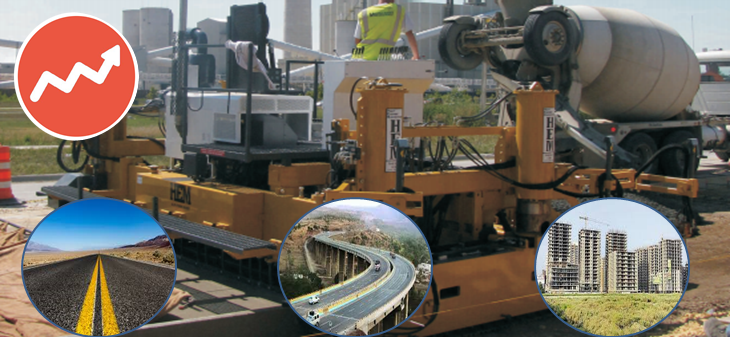 Meeting of Strict Deadlines
In addition to contractors requirements to deliver high quality paving, there is the need to meet the strict deadlines issued by the governments. This has led to a shift from the old model equipments to the newer and more efficient slip form pavers, able to perform various activities simultaneously and also perform multiple functions for offset concrete paving in a monolithic profile, like curbs and side walk constructions, crash barriers with reinforcements, retaining walls construction and many other extra functions.
Demand for Slip form Pavers in Developing Countries
The demand for slip form pavers has mainly been affected by factors such as the machine capacities, output and technological advancements. From the trends observed, the machines able to give greater output have been more preferred over the old model paving systems. Despite there being other supporting projects, like water canals, the main driver of demand still remains roads and kerbs construction.
Successes of the Slipform Pavers in Africa
With majority of the developing countries being in Africa, this region has become an emerging market for slip form pavers India manufacturers. In the North African countries such as Algeria, the slip form paver has been successfully used to build a 1216 km, three lane highways that ultimately link Morocco, Algeria, Tunisia and Libya. With this innovative technology the project was completed in just three and a half years.
In the nation of Nigeria and the state of Kogi, a new 24 km road was done using the slip form paver technology. This development set a precedent for road construction in the country. This fact is also supported by the fact that areas receiving high rainfall are better served by concrete roads as compared to the bitumen roads which would wear and tear faster.
East African Region
In the east African region, developing countries such as Kenya, Uganda and Tanzania have created a heavy demand for the paving equipment, occasioned by the budgets to construct thousands of kilometers of road.
Important Innovations in Paving Equipment
To enhance efficiency, slip form pavers manufactures have gone to great lengths to ensure that equipment efficiency is guaranteed. Fuel efficiency is one area of Innovation that HEM slip form pavers manufacturer has succeeded. That has served to enhance the product demand since fuel is a major cost in concrete paving.