In the civil construction industry, concrete batching plants are one of the most important equipment. It is an essential machinery for every modern contractor. Different types of concrete batching plans such as mobile concrete batching plant and compact concrete batching plant are so popular that we can't imagine any construction site without it. As we all know, the right quality of concrete increases the reliability of any construction. In many different types of time bound and precise jobs, producing high quality concrete in the right amount can be a challenging task. And, without having the high-tech equipment such as mobile concrete batching plant, it is impossible to deliver it on time. However, as a result of technological evolution, today there are various high tech equipments are available which can help contractors in achieving desired results.
Concrete Batching Plant Operating Procedure
Concrete batching plants are designed to achieve the right quality concrete in the right quantity in quick time, so that the construction can proceed as per the schedule. Speciality of the mobile concrete batching plant is that they work very precisely. The functioning of this equipment is simple but very accurate. The load cells weight the required amount of materials and then, the materials are transferred to the mixing unit with the help of material transfer systems. The material is mixed in the mixing chamber for a specific time to achieve the desired output.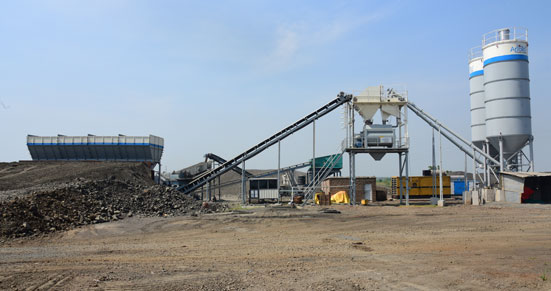 The major parts of the concrete plants are weighing units for different materials, conveying system, mixing unit, material storage systems, control panels and various other optional components offered by
concrete batching plant manufacturer
. In concrete plants, cement is used as a binding material for mixing sand, water, aggregates and other additives to make concrete that can be immediately used for construction work. The demand of these machines is constantly increasing in road construction, building construction and other civil construction projects. Hence, the quality of the concrete plants such as mobile concrete batching plants and compact concrete plants has become a vital aspect for every mobile concrete batching plant manufacturer.
Advantages of Mobile Concrete Batching Plant
Mostly, this machine is made from high quality sturdy material. The most important aspect of this machine is that it is easy to take this machine to different places. Additionally, the machine is very easy to install and the production can be started quickly. Apart from easy movability, the mobile concrete batching plant offers a superior mixing performance. Mixing unit of the plant is capable to deliver uniform mixing of concrete quickly. It is important to note that the mixing unit of the
concrete batching plant
requires cleaning and maintenance at regular intervals. Today, there is a wide range of concrete batching plants available, but it is important to consider several important factors such as build quality, accessories, and control panel features, while planning to buy the right concrete batching plant as per your requirements.