The automatic block making has become critical equipment in all the major sectors of infrastructural development. The major industries utilizing the QT 4 and QT 6 block making machines include the building sector, road construction, garden and landscaping, construction of commercial premises.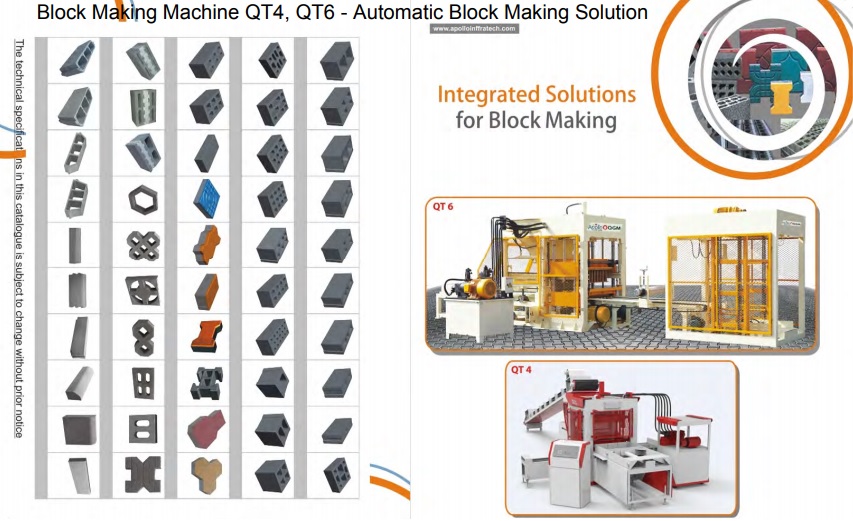 It is a note worthy fact that there are many different types and models of block making machines available in the market but the QT6 automatic block making machine has the highest demand. This is because the equipment has proved efficient and produces blocks easily and with minimum effort. Some of the important features of the block making equipment include;
The logic control system; the best of these machines have the German model of the PLC, with a touch screen interface for ease of operation.
Guaranteed safety of the machine through an auto lock system that avoids mechanical accidents that may happen during operation.
The block production parameters can always be modified as per the site requirements thus helping in cutting of costs, and preventing material wastage.
The machines come equipped with a special air bag cylinder that serves to reduce the vibration and produce high quality blocks.
Efficiency and productivity of the equipment is guaranteed.
Factors Driving Demand for QT4 and QT6 Block Making Machines
The demand for the concrete blocks continues to increase in the United States and around the world. There has been a gradual recovery in the construction expenditures across all the market segments. The bricks, blocks and pavers demand have been the main influencers of this demand. The demand for concrete blocks is due to their usage in as a siding material in most residential buildings and primarily in the single family segment.
With this demand for blocks going upwards all over the world, it has caused a proportional rise in demand for the automatic block making machine.
Innovative and Sturdy Equipment Design 
The
QT4 block making machine
has high efficiency and super strong vibration system that enables the machine realize the required vertical synchronous vibration, frequency conversion and braking.
The concrete block making machine framework is also designed with super strength steel and with special welding technology to guarantee machine durability and performance. With these factors favouring the usage of the block making machines, the global market continues to grow and expand.
Demand in Developing Countries.
In the developing countries such as those in the African continent, the use of concrete blocks serves as the cheaper alternative than construction of the concrete walls. Depletion of the natural stone sources has also led to a shift towards use of the concrete blocks. In expansive residential areas, concrete block making machines are used on site to bake blocks for access roads construction.
Bottom Line
With the rapid investments in infrastructure and construction in many developing countries, there has been an ever increasing demand for the concrete block making machines. Maturation of the international investment market and the rapid infrastructure, the block making machine will continue to be leading construction equipment.