Gone are the days when the roads were constructed with Bitumen, it is now considered as a traditional technology. The trending mechanization calls out Concrete Slipform Pavers to transform the appearance of cities. Be it developed or developing countries, the demand of slipform paver is increasing at tremendous rate for constructing durable roads. Slipform paving is a process used to amalgamate, form into geometric shape and surface finish a PCC mass by pulling the forms continuously through and surrounding the plastic concrete mass.
Did you know?
The technique of Slipform construction was started by the early 20th century for building silos and grain elevators, but was introduced to residential and commercial buildings in the late 1960s.
Why Slip Form Paver?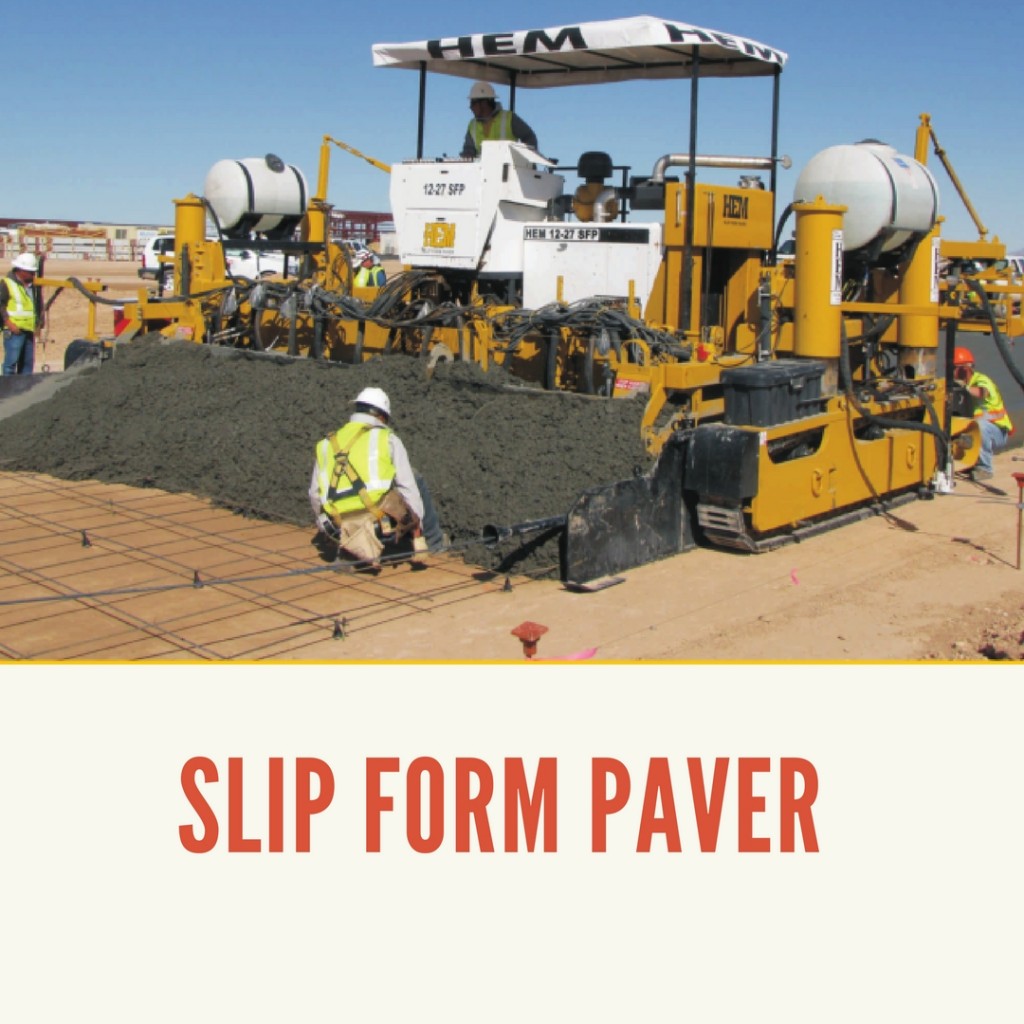 Smooth riding surface: The automation and computer control allow slipform pavers to produce very smooth roads. It is easy to operate and maintain.
More Accuracy:  The hydraulic sensors give more accuracy by controlling its functioning. It is also energy-efficient, as the vibrators are adjusted with no or less energy.
Low-slump PCC:  It uses low-slump PCC so that fresh PCC has consistently holds its shape once the slipform paver has been passed. Low slump PCC can be made with less water and usually has higher compression and flexural strengths than comparable high slump mixes. A Slump test can be held out prior its utilization to check the workability of freshly made concrete.
High productivity: Large jobs generally require high production rates in order to be profitable. Slipform paver offers high productivity in less time as it can cover good width while road construction.
Less Pollution: It emits substantially less pollution while constructing the concrete roads in comparison of using bitumen which produces huge amount of smoke and dust. Thus, it is environmental-friendly.
Slip Form Paver: Application in Wide Areas
Airport Runway: The slipform payer is widely used for constructing runaway in airports. Slip form paving can resist any situation and bear the weight of heavy planes. Thus, it is appropriate for building airports runaways.
Durable Motorways: The Slip form paving provides smooth riding surface which plays a key role in keeping the goods safe while transporting it. Its application is witnessed in the large factories and construction sites where heavy goods are transported frequently.
Residential Paving: Even surface provides a good appearance of the residential areas. The quality of roads does not deteriorate even after its long term usage.
Road for Cyclist & Skaters: The slipform paving is must for enthusiastic people for their workout routines. It helps cyclists and skaters by providing suitable surface for performing their activities.
While deciding the best model which can suit your application of Slipform Paver, you may want to consult a specialist. Apollo Inffratech can provide you overall guidance about machinery prior purchase and offer wide range of machines for high precision in concrete paving.
Apollo Inffratech is one of the premier concrete solutions providers and manufacturers of road construction equipment in India. We came into existence in 2008 with excellent & advanced infrastructure and technological professionals. Our wide range of products consists of Block Making Machine, Transit Mixers, Concrete Batching Plants, Slip Form Concrete Paver, Fixed Form Concrete Paver, Concrete Pipe Making Machines, Self Loading Mixers and Cage Welding Machine. We provide Indian and international infrastructure companies with International standards and global technological breakthroughs in construction industry. We believe in delivering innovative and reliable machines at competitive prices to our clients throughout the world, to facilitate their productivity and reduce operating cost. We have created wide network of business associates and clients all over the world with our strong commitments and unmatched customer services.