A concrete batching plant works with the basic principle of combining varied ingredients such as sand, aggregates, water, cement and additives to make it ready for application at a construction site.
Similarly, the dry batching plant works on same concept. The components such as sand, cement, additives, and aggregates are weighed separately and then they are sent to transit mixer to prepare ready mix concrete. Water is added into the transit mixer. And, the concrete is mixed inside the transit mixer on the way to the work site.
The dry concrete mix is used profoundly in the diverse projects viz. residential and industrial. The application of dry concrete mix has been increased with the increase in demand of the concrete.  It is used to a great extent for infrastructural projects, for instance; for creating concrete foundations, slabs, driveways, sidewalks, patios and floors.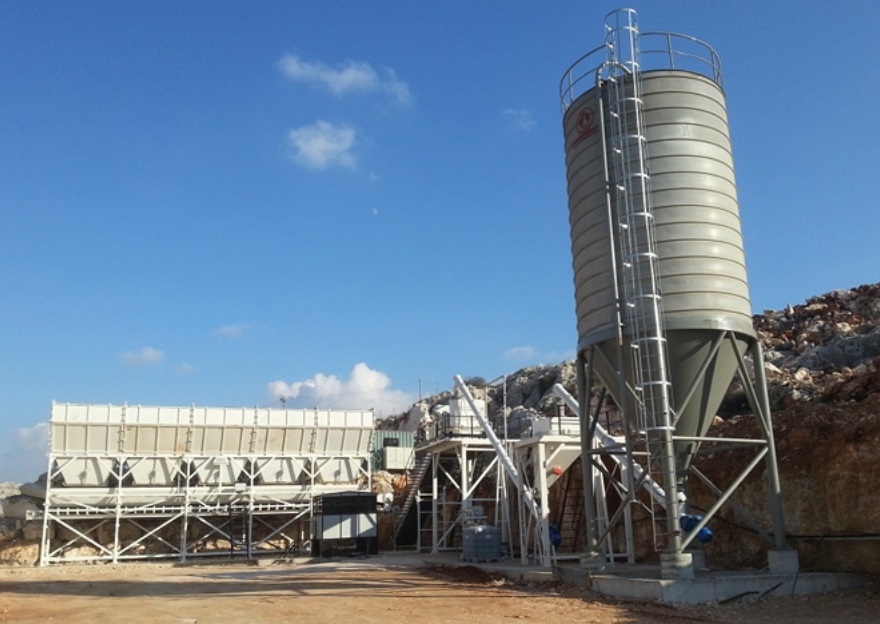 Dry Batching Plant- Working Principle
The working of dry concrete batching plant mainly depends on five primary functions which are mentioned below:
Aggregate feeding – The sand and aggregates are fed into the individual feeding bins.
Powder feeding – Here, the powder is referred to cement, fly ash and additives. They are fed in this stage. These components play a great role in the binding of any material.
Water – Water is discharged in a transit mixer that will help cement bind evenly with aggregates. Its need to be noted here that the definite quantity of water is a must for any ready mix.
Storage and conveyance – Storage and conveyance here refer to storage of cement, fly ash, etc. They have to hold up quantity in bulk and transfer small quantity by screw conveyor to the weighing hoppers.
Control system – The control system is very significant for any advanced machine. It makes operation fast, accurate and user-friendly.
The dry-mix is usually used for small to medium volume placements or for worksite having limited vehicular access.
The dry batching plant comes in two types viz. stationary and mobile. The stationary concrete batching plant is bigger in size than mobile. Its operation is more likely similar to the mobile version. The stationary type of plant is preferred by patrons who want to use concrete at a single place, whereas portable version is preferred by people who want to change the work site more often.
Benefits of Using Dry Batching Plant
User-friendly: The dry batching plant is controlled by the computer which makes it a convenient for users to operate it for long hours easily.
Customized: It can be available in the customized styles according to the specific requirement of users.
Accurate Measurement: The automatic batching plant comes with PLC series, which can help the customers to get good quality of concrete by measuring the ingredients in the exact measure.
Environmental-friendly: The activities from the feeding of raw materials to discharging of finished materials are held in the closed state in a dry batching plant. Thus, it does not pollute the environment and preserves the same.
Belt Feeding: The advanced dry mix plant adopts a belt feeding mechanism. It promotes high efficiency with less power consumption.
Why to Choose Us? Apollo Inffratech is a prominent company involved in manufacturing and supplying high quality of Dry Batching Plant. The company also offers a wide range of high-tech concrete construction equipment such as Block Making Machine, Ready Mix Concrete, Pipe Making Machine, Slip form Pavers and many more.
The organization has earned a reputation and trust of customers across the globe by providing machines made of cutting-edge technology and timely deliveries with the support of advanced manufacturing system, excellent R&D capabilities and skilled engineers.