Concrete Batching Plant used in industry, also known as a batch plant or a batching plant is a device where numerous ingredients like cement, sand, water, and other additives is been combined in order to form concrete. Batching is the process of weighing and introducing the ingredients into the mixer for developing a batch of concrete. Concrete has been considered as one of the most durable materials is been used in construction work like bridges, houses, highways, sidewalks and other.
The concrete batching plant with its parts and accessories combines together and produces high-quality concrete. In order to understand the working principle of a concrete batching plant, it is important to know the different components of the plant.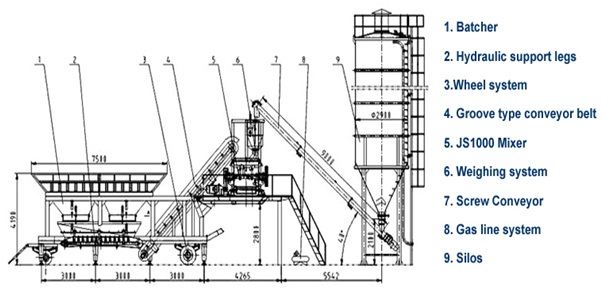 Components of Concrete Batching Plant –
Aggregate Feeders – With the help of bins located, materials like aggregate, sand etc. is been fed with the help of bins that holds the different size of aggregates/sand for different compartment
Cement Weighing Hopper – Hold large volume of cement that comes in bulk. The cement bags are been placed on the top of the hopper and once the cement bags torn they fall into the hopper.
Aggregate Weigh Hopper – Used to weigh the aggregates one by one and transfer them for further processing. With the help of pneumatic cylinders, the aggregates are been discharged.
Twin – Shaft Mixer – It is one of the main components of the concrete batching plant. All the ingredients are been mixed with the help of twin shaft mixer. Ensures the concrete is thoroughly mixed getting the uniform appearance and all the ingredients are equally distributed.
Control Panel – The working of the batching plant is controlled by the control panel. It assists with the fast and accurate measurements of the ingredients that help to produce high-quality concrete.  Latest machines also help to save and print mix material recipes.
Admixtures – Liquid form, having three different types tanked separately.
Water – Water is controlled with the help of meter system depending upon the volume required for mixing
Working Principle of Concrete Batching Plant –
The processing of the concrete batching starts by aggregate feeding into individual bins. As set in the control panel aggregates weigh individually as per the design. After weighing the aggregates, it is been further transformed into the mixing unit. There are weigh hoppers for cement, additive and water present above the mixing unit that aims at transferring the content to the mixing unit. By means of weigh conveyor, cement is been transformed and water is also been pumped. The concrete is been made in the twin shaft mixer where are all the ingredients are mixed uniformly. The timer is been set for mixing of the ingredients by the help of control panel and the time elapses mixing process stops and the truck is been loaded by the concrete.
Apolloinffratech offers you with the concrete solutions by the concrete batching plant. We offer with the concrete solution that is having a good quality of the concrete. Along with this, our other wide range of products include transit mixers, self-loading mixers, block making machine, cage welding machine and many more products. Contact us today and know more about the concrete batching plant