When it comes to performance, concrete pipes offer unmatched long term value and performance. Out of many different types of pipe materials, concrete is the only material that has a proven service track record of more than a century. The structural strength of concrete pipes, provide bases for water distribution and drainage system that works for a very long time. The concrete pipe making machine is used to produce highly durable concrete pipes that give confidence to the design engineers that the pipe material will not only maintain the strength but also provide great efficiency and reliability.
While planning the public water distribution and drainage system, it is very critical to choose the material that requires fewer repairs and maintenance. The maintenance budget for the public systems keeps changing every year and you can't be sure about the future fund allocation for the maintenance, hence concrete pipes manufactured in concrete pipe making equipment is the best choice for long term performance. There are some other materials that may look nice and are claimed to be installed as concrete, but they can be very expensive as compared to concrete and cannot be installed the same as concrete. Today a wide range of high-tech pipe making machine is available that produces high-quality concrete pipes, which are strong, doesn't deflect under load and doesn't melt in the heat.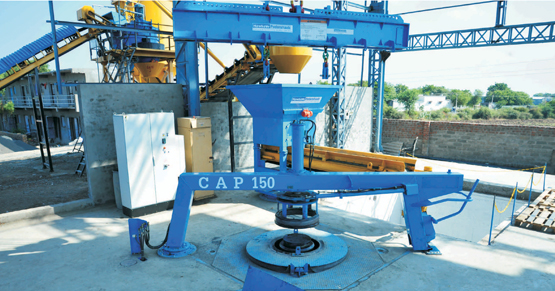 Advantages of Concrete Pipe Making Machine
High Production Capacity:
Today's high tech pipe making machine, also known as a machine for making pipes, produces concrete pipes at a higher rate. In any water distribution and drainage system project, the availability of the concrete pipes is very important for the progress of the project as per the schedule. The concrete pipe making equipment helps the pipe manufacturers to achieve optimum production to meet the high demand.
Strength and Durability:
High-quality concrete pipe making machines are made from strong material that makes them highly durable. In addition, the machine also helps in manufacturing concrete pipes which are sturdy and can deliver efficient performance for a long time, which is one of the very vital aspects of water distribution and drainage systems.
Customization:
As we all know, different types of concrete pipes of different sizes and strengths are required for different applications. Hence, it is very important for the concrete pipe manufacturers to deliver the concrete pipes as per the project requirement within a given time. Earlier it was a very difficult and time taking task for the piper manufacturers, but high tech machines for making pipes, it can be done easily. The concrete pipe making machines have enabled the pipe manufacturers to produce different types of concrete pipes, with different strength and size, within a short period of time. Ultimately, it helps the team, handling the project, to be on top of their schedule.