Compared to manual production of concrete blocks, the block making machine has a replaceable gang mould system that produce several blocks per cycle of casting. The concrete block making machines have inbuilt mechanisms that ensure greater strength and performance of the concrete is achieved.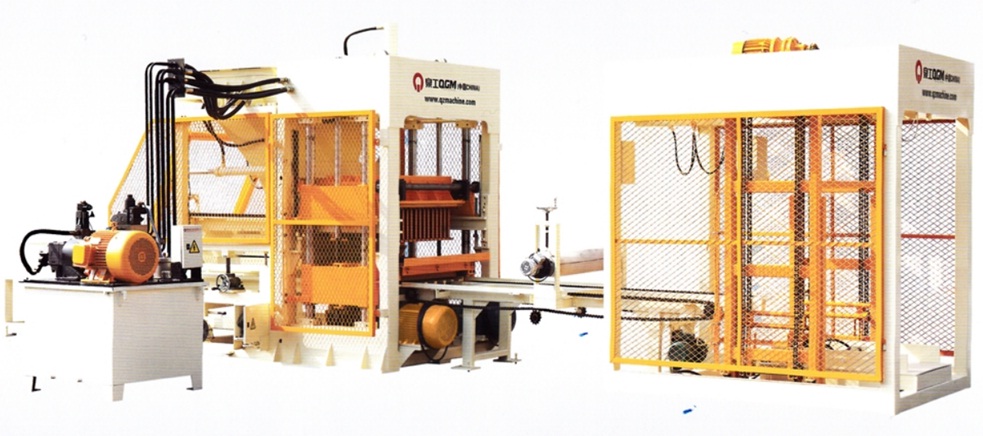 Indigenous block making machines were used in manufacture of larger concrete blocks of both solid and hollow blocks. It was later shown that the size of the aggregate particles affected the quality and strength of the blocks. Concrete with bigger aggregates (greater than 15mm) exhibited segregation and lack of compaction.
New Generation Block Making Machines
To combat this problem there was need to develop a way to achieve better aggregation and compaction. Instead of use of the normal plate vibrator, a technique of pressure vibration was developed to efficiently handle concrete mixes with a wider range of aggregate size and better consistency. This technique has been one of the major efficiency improving innovations in concrete blocks manufacturing. Thus it has been successfully used in stone casting blocks, large size block making and also in making of the traditional aggregate blocks.
Design parameters that enhance efficiency of the Block making machine
Enhanced production efficiency through process innovations and low maintenance costs has been a guiding principle in development of
concrete block making machine
. The simplicity of the basic design also allows for easier operation and greater productivity.
Mobility of the Machine
There is improved efficiency when the machine is able to set ready blocks at one point and easily move to another position thus eliminating the need for wooden and steel pallets.
Efficiency in Compression
Compression in the block making machine is achieved using hydraulic cylinders which are able to create a much stronger block which still reducing the usage of cement. The use of high frequency vibrator system achieves greater compaction and the incorporation of powerful motor systems has contributed to enhanced performance. The equipment is also designed to manufacture hollow blocks which are able to save on materials and create an appealing look.
Automatic Block Making Machine
Automation in the concrete industry has led to development of the
automatic block making machine
. This is an economical machine that delivers high quality blocks in both industrial quantities and special purpose needs. It is generally accepted that the automatic models have two fixed presses able to compress blocks uniformly and with greater force.
Reduced Electrical Installation Needs
The automatic block machine is made with reduced electrical installation requirements and ease of maintenance.  The operating method is designed in such a way to be power efficient and there for quick return on investment.
Flexibility
The ability to develop blocks of different dimensions enhances the flexibility of these block making machines. Latest machines are also equipped with programmable logic control system where specific block dimensions can be set, including batching times and a continuous production process is achieved.
Bottom Line
Technological developments in the concrete industry have enabled the development of machines with greater productivity and profitability. Advances in the design of the block making machines have meant greater output, flexibility in design and also the production of hollow blocks has been made possible.